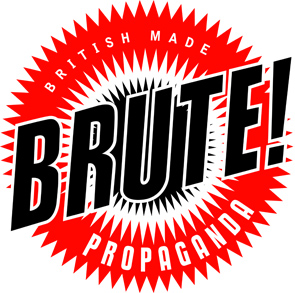 Stay up-to-date with the latest art from BRUTE! Propaganda. All new inks, prints and merchandise plus exhibition photos from around the world.
We here at BRUTE! Propaganda are always on the look-out for quality merchandise with which to adorn our images so it's a pleasure to team up with a company that specialises in robust paraphernalia. Over at barproducts.com, they've produced a stunning series of BRUTE! bottle openers that will be the talking point of any BBQ, […]
I was asked by old friend and rare dance music enthusiast, Ian Dewhirst, to create the cover artwork for their CD collection of dance classics from Chicago's legendary Trax Records back catalogue.   I agreed and spent the next week roughing out several concepts before settling on the one above. When plotting out a character's […]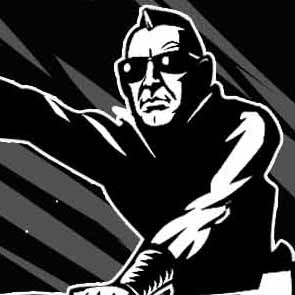 KMFDM TOUR POSTER (War Bus) As part of their promotional campaign for their upcoming tour, industrial group KMFDM commissioned me to come up with something appropriate. Inspired by WW1 armoured mini tanks and modern anti-riot vehicles, I set about creating a hybrid more suited to the band's image than the traditional tour bus. After creating […]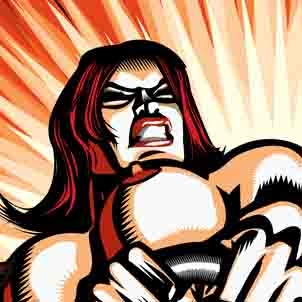 In support of the Femen/Pussy Riot protestors, I created a suitably forceful chainsaw-wielding amazon for the front cover of the new KMFDM album, 'Kunst'. Since their incarceration for various anti-Putin stunts and protests, international support for the women of the movement has grown exponentially, mostly due to their bare-chested style of defiance. (see Femen cross-felling […]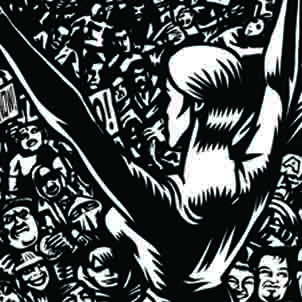 Inspired by my earlier illustration, The Prophet, this gorgeous orator will inspire and subjugate any room she hangs in. Available on the blog shop in either framed canvas or photo stock paper.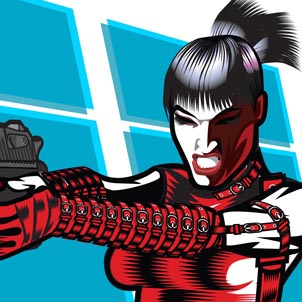 A detail of singer Lucia Cifarelli from KMFDM's band artwork from a few years back and now available from the BRUTE! blog shop as either a 240gm. photo stock or framed canvas print. Each print is signed by the artist and numbered from a limited edition of 500 (photo stock) and 250 (canvas).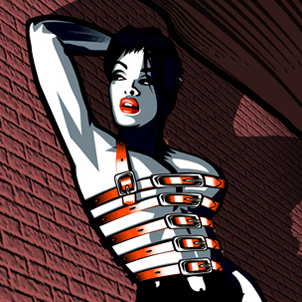 With this recent commission for the forthcoming Le Accelerator, I got to realise one of my earliest creative dreams – to design a kung-fu movie poster. As opposed to aping those bold and furious designs used by the Chinese film industry in the 70s, I instead applied a minimalist technique to create a cleaner and […]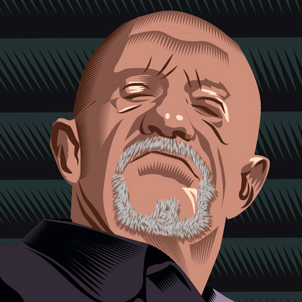 To commemorate the passing of one of the greatest hit men ever to grace the screen, I created this vector illustration of steely ex-cop turned meth dealer muscle, Mike Ehrmantraut, again represssing the urge to blow Walter White's scheming brains out. He shall be sorely missed. Prints of the Breaking Bad character are available from the […]
For the second of my sportrait series for online gambling site Buddybet, we decided to run a poll on Facebook to find the world's most popular footballer. Despite heavy competition, David Beckham came out a clear winner and it is in his honor than I created this illustration depicting the moment before he scored that […]
---