Back in the early 90s, I was commissioned to illustrate Warner Music's catalogue. I was pretty much burned out doing these film noir gumshoes so I hesitated at first but eventually capitulated when writer Ian Dewhirst added more characters.
Despite some negative reactions from the suits at Warner's, it went on to win a D&AD advertising award for Best Corporate Campaign.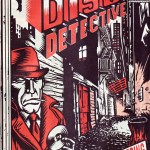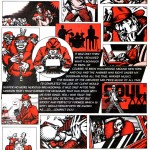 ---
The early 80′s was a tense time. The world seemed on the brink of war, youth unemployment was at an all-time high and strikes and riots were commonplace. To reflect this, I began to write and illustrate a series of strips that attempted to address these concerns. The first copy of RAGE! was sold in Bristol, London and Amsterdam and was creating a buzz until its demise soon after the originals for RAGE! 2 were stolen from my apartment in Holland.
Thanks to my brother for digging this one out.
---
My good friend Raw produced an amazing animated comic from which this is a still. Good work, that man!
See the animation in its entirety: http://www.youtube.com/watch?v=iCrbBmLYsB8
---