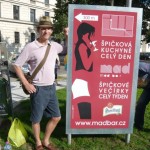 After my month-long residency at Mad Bar, the owners thought my stuff might work for an advertising hoarding they planned to install at a crossroads near the bar so I offered them this illustration of a party girl which, after a few minor changes, they accepted.
By coincidence, the printers I use was printing it out while I was in there with another job.
The finished article was erected yesterday and I include a photo of the poster..
To view the ad, get yourself down to Ujezd, Mala Strana, Prague 5.
The location is half way between Smichov and Mad Bar itself (on Plaska).