To commemorate the passing of one of the greatest hit men ever to grace the screen, I created this vector illustration of steely ex-cop turned meth dealer muscle, Mike Ehrmantraut, again represssing the urge to blow Walter White's scheming brains out.
He shall be sorely missed.
Prints of the Breaking Bad character are ava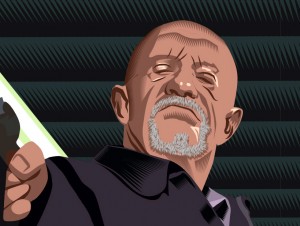 ilable from the blog shop.
http://blog.bruteprop.co.uk/?page_id=318&category=1&product_id=122
---

click on image to enlarge
We've been getting a lot of emails from people who couldn't make it to the Popaganda exhibition for details and prices so I have posted the price list for the show above.
Prices are in Czech krowns so I have included a link to a currency converter below.
Any further enquiries, you can contact us here bruteprop@gmail.com
Show ends July 13th Address: Mad Bar, Plaska 5, Mala Strana, Praha 5 (CZR)

Currency converter: http://www.xe.com/ucc/
---