The BRUTE! show continues its relentless push across the city of Prague as it moves into its newest home in the heart of the historical Mala Strana district.
Covering three rooms of the gallery, the exhibition includes several large canvas digital prints, custom BRUTE! skate decks and T-shirts and will continue for until July 4th 2010.
Come on down to the Napa Bar and Gallery, Prokopská 8, Prague, Czech Republic, 118 00 Praha. It's open from 19:00 – 03:00 every day or phone  +420 774 530 689) for private consultations.
---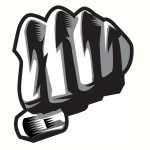 Courtesy of  Twisted Sticker in Toronto, BRUTE! are proud to unleash our latest monster onto the marketplace.
At a pugilistic 52 inches across, this empowering emblem will stun the neighbours into oblivion when they see it emblazoned across your SUV or dirtbike.
Made from weather-resistant vinyl and delivered in custom BRUTE! packing tubes, the FIST sticker is going to smack the living daylights out of your, er… day.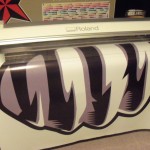 Please check the products shop for details on how to order.
---

click on image to enlarge
We've been getting a lot of emails from people who couldn't make it to the Popaganda exhibition for details and prices so I have posted the price list for the show above.
Prices are in Czech krowns so I have included a link to a currency converter below.
Any further enquiries, you can contact us here bruteprop@gmail.com
Show ends July 13th Address: Mad Bar, Plaska 5, Mala Strana, Praha 5 (CZR)

Currency converter: http://www.xe.com/ucc/
---