To commemorate a year since the death of legendary bassist, Peter Steele, I was asked by several fans to illustrate a portrait of the great man in action.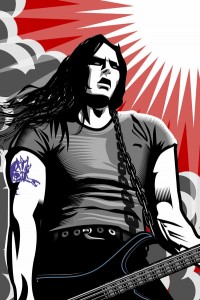 Printed on 200gm photo-art paper and signed by the artist, these dynamic posters capture the intensity of the performer as he will be forever remembered.
Petrus T. Ratajczyk (January 4, 1962 – April 14, 2010)
Special Limited Edition of 250.
Size A3 (16"x 22")
Also available in green
Available from
the blog shop.
Larger sizes in canvas can also be ordered by contacting bruteprop@gmail.com