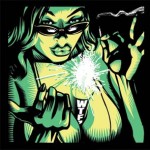 For the latest KMFDM release, band leader Sascha Konietsko and I came up with this enticing but dangerous femme fatale within whose tempting assets destruction awaits.
Coincidentally, I had been musing on the way women's faces, lit from beneath by the light from their mobile phones,  resemble those Renaissance paintings of  Madonnas  and the placement of the sparkling fuse in the artwork adequately conveys this flushed, angelic look (even though its source is threatening).
Several alternative colour combinations were suggested before agreement was made on the featured green and yellow.
For more details on the album's release, please visit KMFDM's web site here