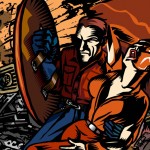 'Homeland' artwork click to enlarge

In April of this year, I was contacted by a client with an interesting proposition: to create a piece that accurately described his philosophy of the defence of freedom.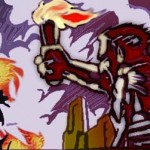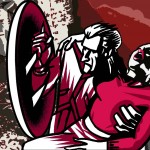 Conceptual roughs for 'Homeland'.
Over the ensuing weeks and months, and guided by his specific and intricate instructions, I condensed the dynamics of our conversations into a series of roughs. The more successful of these roughs were compiled into the final image which represents the defense of the weak from the predatory aspects of human nature.
This was a complex and challenging commission and one that I'm proud to have completed to the client's satisfaction.
To commission your own BRUTE! illustration, please contact us with your ideas at: bruteprop@gmail.com
To purchase the ink original, please also contact the above email address.