A detail of singer Lucia Cifarelli from KMFDM's band artwork from a few years back and now available from the BRUTE! blog shop as either a 240gm. photo stock or framed canvas print.
Each print is signed by the artist and numbered from a limited edition of 500 (photo stock) and 250 (canvas).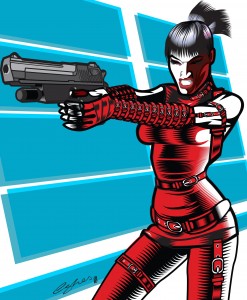 Tags: Aidan, BRUTE!, canvas, cifarelli, Hughes, illustration, kmfdm, Lucia, print, singer, vector.