To celebrate International Women's Day, I wanted to choose an iconic female that would speak volumes about the women in my life and their best qualities: their concern and resolve, their nobility and beauty.
PS. I used the lovely Tina Louise (Ginger in Gilligan's Island) as the basis for BIG RED.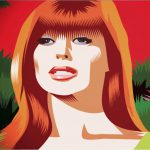 The image is available form the Products shop as either a canvas or art stock paper print.