Fight the Jab posters at Anti-Vaccine Rally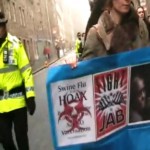 On Saturday 12th December 2009 concerned citizens of Edinburgh in Scotland UK took to the streets with a message of taking the truth to power as they walked down the city's Royal Mile toward the Scottish parliament building where they congregated to make their message heard to the powers that be.
BRUTE!s free Fight the Jab propaganda posters were spotted at the rally.
To get yours, please contact bruteprop@gmail.com for details.